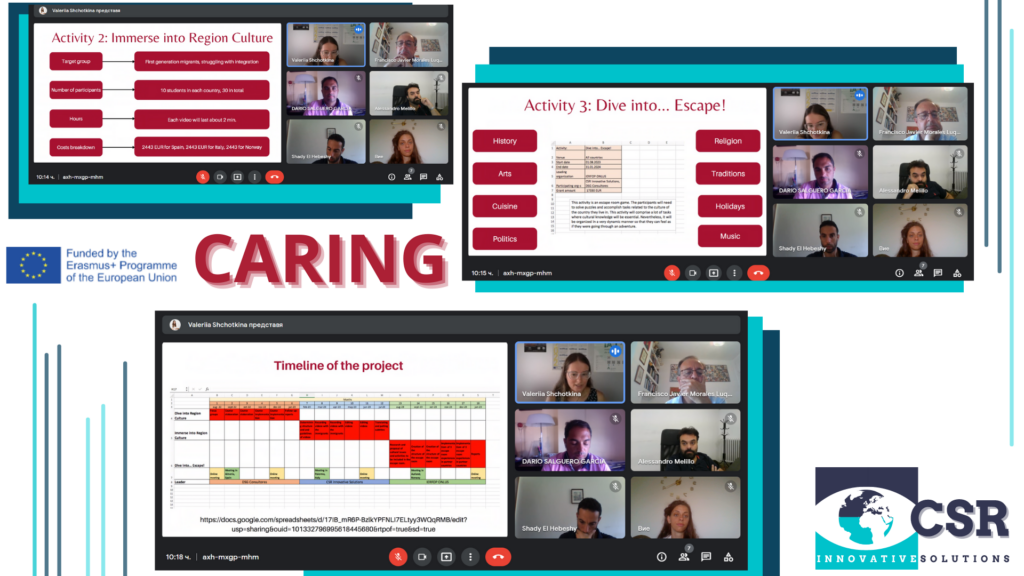 Our team is glad to announce our participation in the online meeting for the newly approved Erasmus + project – CARING.
Migrants' inclusion has always been an essential part of the migration phenomenon; however, it is today a particularly complex issue. In an increasingly globalized world, the growth in the absolute number of migrants over the past 50 years and the diversification of migrants' origins, socioeconomic backgrounds, and reasons for migrating have led to more social, cultural, ethnic and religious diversity in receiving societies. As a result, the impact of migration and diversity on social cohesion has become a significant concern. Considering the facts above, with CARING project aims to:
The aims of the project are:
To build a more inclusive society.
To foster intercultural exchange.
To increase educational and labor opportunities for immigrants.
To promote culture and education.
To foster intercultural competences.
Our results stem from our objectives:
A more inclusive society.
Higher level of intercultural exchange.
More opportunities for immigrants as for educational and job offers.
More culturally competent from both sides, immigrating people and receiving society.
The consortium's first online meeting took place today, during which the project's details were discussed. The project partners will meet in person for first time at the project's kick-off meeting, which is scheduled for September in Spain.
CSR Innovative Solutions is excited about the development of CARING project.