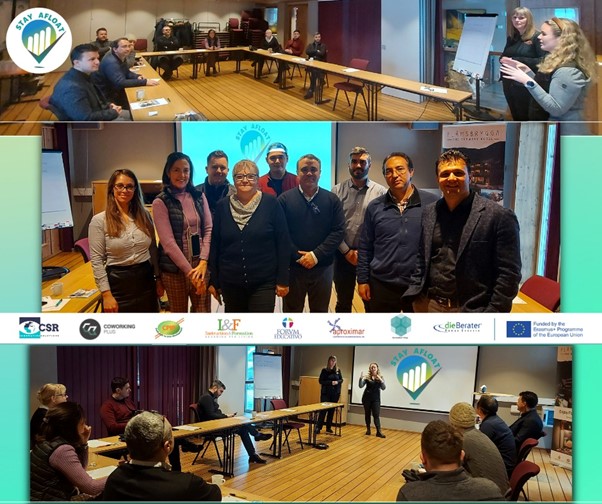 Our team has the pleasure to participate in the KICK-OFF meeting for the STAY AFLOAT project in Flam, Norway.
All project partners had the opportunity to meet physically for the first time.
An exciting part of the Transnational Project Management meeting was our guest speaker- Mr. Bengt Hammer, Senior Sales Manager of the Flam Railway.
Thanks to the special contribution of our guest speaker and the active participation of all project partners, the first day was full of interesting discussions related to Management crises and efficient strategies for successful businesses.
The main focus of the discussions was the development of the project results:
✅ Stay Afloat Framework
✅Stay Afloat Curriculum and Open Educational Resources
✅ Stay Afloat Online Course
During the second day of The Kick-Off Meeting for the Erasmus + project – STAY AFLOAT in Flam, Norway the Dissemination and Quality & Evaluation plan were the main topics of the day. The partners had the opportunity to discuss face-to-face different dissemination strategies. A final decision for the creation of a Facebook page and LinkedIn profile for the STAY AFLOAT project was taken by all partners. This decision is based on the target group of the project. The website of the project will be developed soon by – Coworking PLUS, and we are looking forward to sharing it with you.
In addition, special participation in the Transnational Project Management meeting took the representatives of the Flamsbrygga Hotel – Monna Kjos Almenningen – The product and Market director and Ann-Kristin Lyngtu Svortevik – Booking and Revenue Manager. Our guest speakers had an inspiring presentation related to business strategies for sustainable development and successful management during crisis situations.
For our team, it was a pleasure to be part of the Kick-Off meeting in FLåm and to meet with the project partners. We are looking forward to the development of the STAY AFLOAT project.